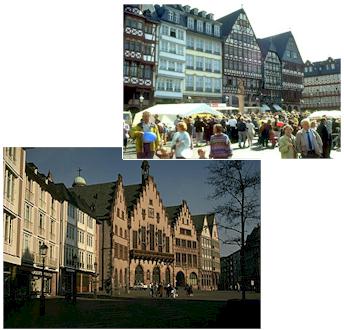 Some Attractions
Alte Oper (Old Opera House)
Built between 1873 and 1880 and gutted in World War II, Frankfurt's Old Opera House has been beautifully reconstructed.
Goethehaus und Goethemuseum (Goethe's House and Museum)
The house where Germany's most famous poet was born in 1749 is furnished with many original pieces that belonged to his family, including manuscripts in his own hand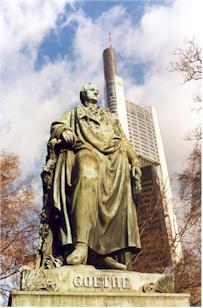 Museum für Moderne Kunst (Musuem of Modern Art)
Sachsenhausen
The old quarter of Sachsenhausen, on the south bank of the Main River, has been sensitively preserved, and its cobblestone streets, half-timbered houses, and beer gardens make it a very popular area to stroll in.
Judisches Museum (Jewish Museum)
Römer (City Hall)
The mercantile-minded Frankfurt burghers used the complex of three patrician buildings not only for political and ceremonial purposes but also for trade fairs and other commercial ventures.
FRESSGASSE
("Pig-Out Alley"). Grosse Bockenheimer Strasse is the proper name of this street, one of the city's liveliest thoroughfares, but Frankfurters have given it this sobriquet because of its amazing choice of delicatessens, wine merchants, cafés, and restaurants. Food shops offer fresh or smoked fish, cheeses, and a wide range of local specialties, including Frankfurter sausages. In the summer you can sit at tables on the sidewalk and dine alfresco.
PALMENGARTEN UND BOTANISCHER GARTEN (Tropical Garden and Botanical Gardens). A splendid cluster of tropical and semitropical greenhouses contains a wide variety of flora, including cacti, orchids, and palms. The surrounding park has many recreational facilities, including a little lake where you can rent rowboats. Between the Palmengarten and the adjoining Grüneburgpark, the botanical gardens have a wide assortment of wild, ornamental, and rare plants from around the world. During most of the year there are flower shows and exhibitions; in summer concerts are held in an outdoor music pavilion. Siesmayerstr. 63, PHONE: 069/2123-3939. COST: DM 7. Mar.-Sept., daily 9-6; Oct. and Feb., daily 9-5; Nov.-Jan., daily 9-4. www.stadt-frankfurt.de/Palmengarten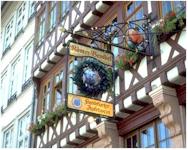 Frankfurt Restaurants
Frankfurt offers a wide selection of cuisine including Mediterranean, Thai, Japanese, Latin American and of course German. The city's most famous speciality is Frankfurter Wurstchen, a long, thin, smoked pork sausage, together with Frankfurt Crown Cake with a delicious praline topping. The classic regional drink is 'ebbelwoi', an apple wine, often found in traditional taverns and served in decorative clay pitchers. Sold in varying strengths, some of them can be deceptively strong.
Erno's Bistro - Erno's is something of a Frankfurt institution. It's small and chic - very popular with visiting power brokers - and offers classic French cuisine.
Liebigstrasse 15, Frankfurt-am-Main
Tel: +49 69 7219 97

Humperdinck - Alfred Friedrich, formerly the head chef of Brückenkeller, launched his own business by taking over and renovating this restaurant. He regales the lucky diners at his 15 tables in an elegant, neo-baroque setting with some of the most creative cooking in Frankfurt.
Grüneburgweg 95, Liebigstrasse, Frankfurt-am-Main
Tel: +49 69 9720 3154
BISTROT 77 - Proprietor-chef Dominique, who learned his trade in the French Alsace region, serves a three-course regional meal daily in this spare bistro with plain walls and a tile floor.
Ziegelhüttenweg 1-3, Frankfurt, Germany
Tel: +49 069/614-040
Brückenkeller - This highly regarded restaurant near the Dom (cathedral) in the old town has a new chef (Frank Buchholz) and a new philosophy, with the owner insisting that he no longer aspires to Michelin stars and Gault-Millau toques.
Schützenstr. 6
Tel: +49 069-298-0070.
Altes Zollhaus - Within this beautiful 200-year-old half-timbered house you can enjoy very good traditional German specialties.
Friedberger Landstr. 531
Tel: +49 069-472-707

Gargantua - One of Frankfurt's most creative chefs, Klaus Trebes, serves up new versions of German classics and French-accented dishes in a Westend dining room decorated with contemporary art.
Liebigstr. 47
Tel: +49 069-720718

Cafes
CAFÉ LAUMER - The ambience of an old-time Viennese café, with a subdued decor, ballustraded terrace, and rear garden, is well preserved here. Come for the variety of coffees and mouthwatering cake buffet.
Bockenheimer Landstr. 67, Frankfurt, Germany
Phone: 069/727-912

Nightlife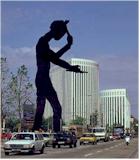 Wagons and pushcarts decorate AN SIBIN, an Irish cellar pub. (Wallstr. 9, PHONE: 069/603-2159). Serious elbow lifting and heartfelt conversations take place in English, Gaelic, Hessian dialect, and German. There is live music most nights along with Guinness right out of the keg and some good pub grub. It's closed Sunday.
The tiny, cozy BALALAIKA (Dreiköigstr. 30, PHONE: 069/612-226), in Sachsenhausen, provides intimacy and live music without charging the fancy prices you'd expect at such a place. The secret is proprietress Anita Honis, a professional American singer from Harlem, who usually gets out her acoustic guitar several times during an evening.
Frankfurt teems with Irish pubs, but FOX AND HOUND (Niedenau 2, PHONE: 069/9720-2009) is the only English pub in town. The patrons, mainly British, come to watch constant satellite transmissions of the latest soccer, rugby, and cricket matches, to enjoy the authentic pub grub (try the basket of chips), and to participate in the Sunday-night quiz for free drinks and cash prizes. It's a noisy bunch.
Hot newcomer LIVING (Kaiserstr. 29, PHONE: 069/242-9370), one of the biggest bar-restaurants in Germany, is in the equally "in" Eurotower, the headquarters of the newly established European Central Bank. Its spacious, terraced interior has drawn architectural praise. On Friday and Saturday it offers a "subdued" disco, geared to the easy-listening preferences of the banking community, but it's not so prudish as to exclude regular gay entertainment.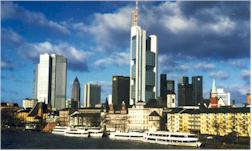 Bizarre as it may seem, DORIAN GRAY (Terminal 1, Section C, Level O, PHONE: 069/6902-2121), at the airport, is one of Frankfurt's best clubs for techno music. It's easily reached by the S-bahn. It's closed Monday and Tuesday.

The very trendy FANTASY GARDEN (Seilerstr. 34, PHONE: 069/285-055) is a bistro, bar, and dance club in one with an Asian-Egyptian-Californian atmosphere. Drinks have names like "Orgasmus," and mescal is served with a worm. The California-style food (served until midnight) leans toward salads and vegetables. There is a terrace for cooling off.

New on the scene is KING KAMAHAMEHA (Hanauer Landstr. 192, PHONE: 069/4059-1194). Beneath the heating pipes of a former brewery are a dance floor and stage. When there isn't a live concert or a DJ on the stage, there may be comedy, cabaret, or a fashion show. If the noise is too much, there's a quiet bar downstairs. It's closed Monday.

DER FRANKFURTER JAZZKELLER (Kleine Bockenheimer Str. 18a, PHONE: 069/288-537). The oldest jazz cellar in Germany was founded by legendary trumpeter Carlo Bohländer. It offers hot modern jazz, which is often free, but for some performances has a DM 25 cover charge. It's closed Monday.

DREIKÖNIGSKELLER (Faerberstr. 71, PHONE: 069/629-273). The cellar fills up with jazz and jazz enthusiasts, as well as smoke. Anything can happen, and you might hear 1940s or '50s jazz, blues, funk, rock-wave, or indie-punk. It's patronized mostly by students, with a sprinkling of hip older people.

SINKKASTEN (Brönnerstr. 5-9, PHONE: 069/280-385). This club is a class act - a great place for jazz, rock, pop, and African music. It's sometimes hard to get into, but worth the effort. There's live music Tuesday-Wednesday and weekends.

COOKY'S (Am Salzhaus 4, PHONE: 069/287-662) is open into the wee hours and is one of the most popular local haunts for rock music; live bands perform on Monday night. You can also dance and have a meal.

Wine Bar: - Popular with crowds before and after performances at the nearby Old Opera, VINUM (9 Kleine Hochstr. PHONE: 069/293-037) is in an vaulted cellar lined with wine kegs. The food, unlike the wine, is overpriced.

Useful Information:
Getting from the airport to town and exploring the city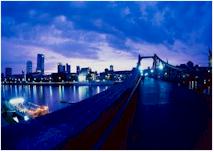 The Frankfurt-Main International Airport is about 11 kilometres (7 miles) from the city. An inexpensice train service operates between the airport and the city centre. This journey takes 20 minutes by taxi and costs around 40 DM. The city has excellent bus, train and tram services as well as taxi and car hire services.
The Hauptbahnhof (main train station) area and adjoining Westend district are mostly devoted to business, and banks tower overhead. You'll find the department stores of the Hauptwache and Zeil only a few blocks east of the station, but avoid the drug-ridden red-light district, also near the station.
Until it was bombed by the Allies in World War II, Frankfurt's Altstadt (Old Town) contained Germany's biggest section of medieval buildings. The area is now much diminished, because very little of it was restored after the war, and most of the medieval structures were replaced by modern office buildings. What remains of the Old Town is close to St. Bartholomäus and the Römer, or City Hall. The Sachsenhausen district, across the Main River, is another area to see the Frankfurt of yesterday.
The city's smooth-running, well-integrated public transportation system (called RMV) consists of the U-bahn (subway), S-bahn (suburban railway), Strassenbahn (streetcars), and buses. Fares for the entire system are uniform, though they are based on a complex zone system. The Frankfurt tourist office offers a one- or two-day ticket - the Frankfurt Card - allowing unlimited travel in the inner zone (and to the airport) and a 50% reduction on admission to 15 museums (DM 12 for one day, DM 19 for two days).
Click here for your hotel in Frankfurt